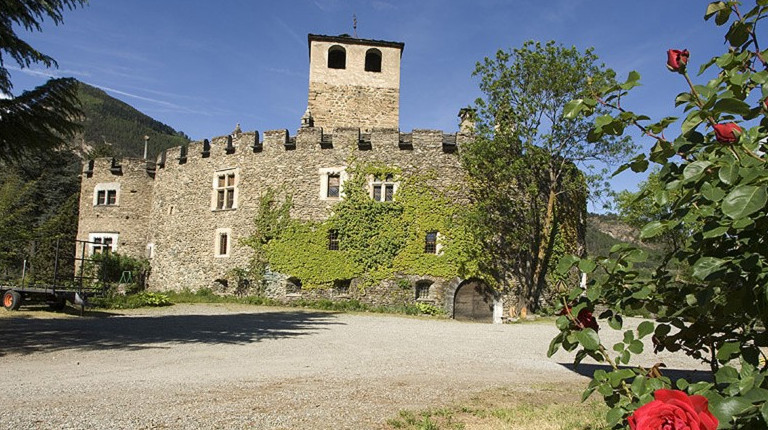 Introd Castle
The original castle probably dates back to the 12th century and it was initially made up of a squared tower surrounded by a stone wall. Towards 1260 Pierre Sarriod from Introd enlarged the castle and in the 15th century it underwent more changes, acquiring the almost round polygonal shape that sets it apart from the other castles in Aosta Valley. These changes mark the apogee of the Sarriod lineage, in whose power were the dominions of Introd and of La Tour (Saint-Pierre).
The Castle underwent two destructive fires during the second half of the 19th century and was restored at the beginning of the 20th century by Chevalier Gonella, availing of the work of architect Chevalley.
On the plain in front of the castle there is a magnificent building; one of the rare examples left of constructions made entirely out of wood, which is the typical medieval architecture in Aosta Valley: a 15th century barn where wheat and seeds were stored. The wrought iron locks on the two doors date back to the time of the original construction. One of them, of particular beauty, represents a castle.
Introd Castle now belongs to Count and Countess Caracciolo of Brienza, is on loan for use of Introd municipality and is managed by Fondation Grand Paradis, who gurantees guided tours.
The panorama from the top of the 13th-century tower is magnificient, with the view of Mont Blanc and the other peaks surrounding Aosta.
Inside the castle, it is possible to take advantage of the emotional position - created by the Grand Paradis Foundation through the Interreg PACTA project - dedicated to the papal bull of Pope Nicolas V of 1453, who authorized the marriage between Catherine de Challand and Pierre Sarriod d'Introd, found inside the castle and exhibited in its original version. The interactive installation, composed of scenographic and virtual elements, allows the visitor to admire the original document and follow the story through the loudspeaker of its characters.