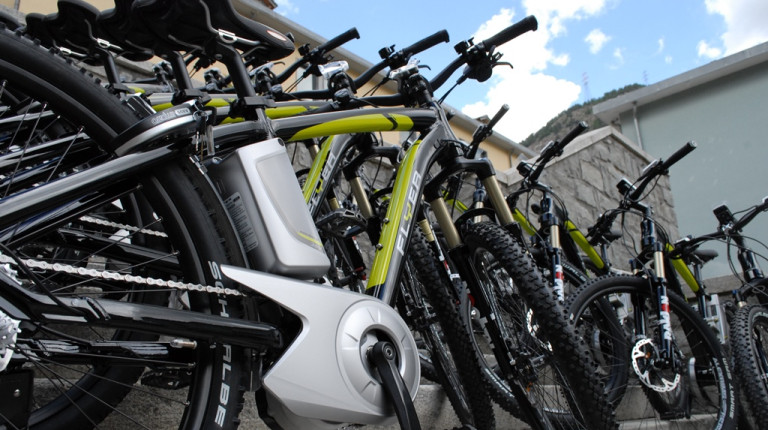 e-MTB ITER
Plunge into nature, come and experience the new electric mountain bikes!
A small, but big, revolution on two wheels: thanks to the electric pedal assisted Mountain Bikes everybody will be able to face hard paths along Gran Paradiso local roads! The electric engine of the bicycles helps bikers to afford uphill roads like they were pedalling on flat roads, with the same effort!
The mountain bikes have an autonomy that varies from 40 km on uphill roads to more than 100 km on flat paths; their weight is of 20 kg and they are equipped with hydraulic disc brakes and dampen forks. Light and functional, they are perfect to travel on the mountain territory.
Bicycle rental is free of charge and reserved to Fondation Grand Paradis Pass cardholders (to know more about rental conditions, please download the complete regulations). Reservation is compulsory. The e-MTBs are available at the Visitor Centre of the Gran Paradiso National Park in Valsavarenche.
What are you waiting for? Come and discover how pedalling in the mountains using the e-MTBs can be eco-friendly and, above all, electrifying! A unique experience, suitable for everybody!
REGISTRATION POINTS
(According to opening hours)
• Fondation Grand Paradis Headquarters - Villaggio Minatori, Cogne (from Monday to Friday, from 9 a.m. to 3 p.m. and from 2 p.m. to 6 p.m.)
• Gran Paradiso National Park Visitor Centre, Cogne - Villaggio Minatori, Cogne
• Gran Paradiso National Park Visitor Centre, Rhêmes-Notre-Dame - Loc. Chanavey, Rhêmes-Notre-Dame
• Introd Castle - Fraz. Plan d'Introd, Introd 
• Gran Paradiso National Park Visitor Centre, Valsavarenche - Fraz. Dégioz, Valsavarenche
REGULATION 
Contract for the loan of the e-MTB
HOW TO USE THE e-MTB 
Suggestions for a correct and respectful use of the eMTB
The action has been realised and supported within the I.T.E.R. - Imaginez un Transport Efficace et Responsable project