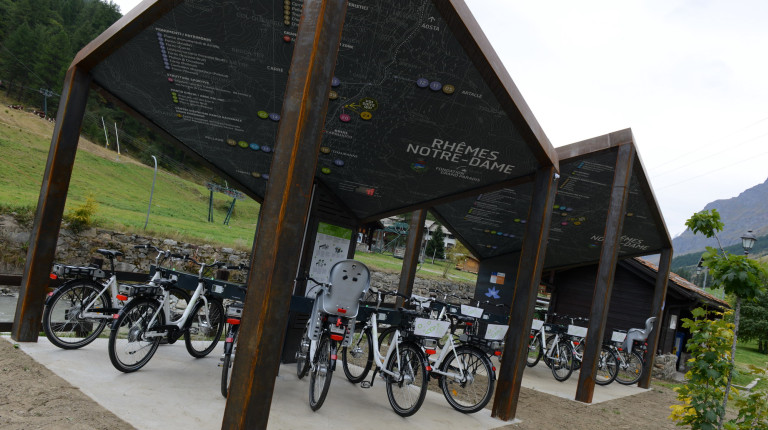 Bike Sharing Rê.V.E. Grand Paradis
Fondation Grand Paradis proposes one of Europe's widest electric bike sharing system supplied by renewable energy. The network consists of 66 electric pedal assisted bicycles available in 11 docking points in 8 station locations within the Municipalities of Cogne, Introd, Rhêmes-Notre-Dame, Rhêmes-Saint-Georges and Valsavarenche.
The service is reserved to users older than 16; it is available 7 days a week from 5 a.m. to 12 p.m., for a maximum of 3 hours per day for each user. To make use of the service and to obtain the electronic badge necessary to remove and return the e-bike from the docking station users simply have to register for free at one of the registration points and sign the agreement. A 10 euros deposit is requested.
For any information and request, please contact the reference municipality.
The initiative has been realised in the framework of the project Rê.V.E. – Grand Paradis, finished December 2014. The regional structures in charge were the Department of production – Direction energy - Service for the realization of the Energy Plan and the Structure Programs for regional development and mountain areas policies of the Presidency of the Aosta Valley Region.
REGISTRATION POINTS
(according to opening hours)
• Consorzio Operatori Turistici Valle di Cogne
• Rhêmes-Saint-Georges town hall
• Gran Paradiso National Park Visitor Centre, Valsavarenche - Fraz. Dégioz, Valsavarenche
• Valsavarenche town hall
• Maison Bruil Introd Fraz. Villes Dessus – Introd
• Introd Castle - Fraz. Plan d'Introd, Introd 
• Introd town hall
• Parc Animalier d'Introd
INSTRUCTIONS
Swipe your electronic badge on the reader of the hook system of the bicycle you want to remove.
Remove the bicycle, check its general conditions, adjust the bicycle saddle according to your needs and…go! Remember to lock the bicycle if you decide to leave it unattended.
Return the bicycle to the same station you have removed it from and insert it in the hook system; if the vehicle is correctly hooked the light on the screen turns green.
Be careful: if the light remains red it means that the bicycle has not been correctly returned and you are still responsible for it.
STATIONS
Cogne
• Villaggio Minatori
• località Revettaz
Introd
• località Villes Dessus
• frazione Plan d'Introd
Rhêmes-Saint-Georges
• frazione La Palud
Rhêmes-Notre-Dame
• località Chanavey
Valsavarenche
• località Pont
• località Dégioz